How to Make a Smoke Bomb Pumpkin - Halloween, Smoke Bombs and Pumpkins Trend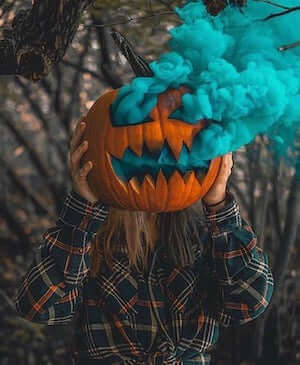 Pumpkin Smoke Bombs - Halloween Smoke Bomb Photo Ideas
The fall is fast approaching, which means it's time to start thinking about your plans for Halloween. What costume are you wearing? What decorations will you put up? Are you trick-or-treating? Attending a party?
Organizing a themed photoshoot with your family and friends is a fun and unique way to celebrate the holiday. While any candy collected will be gone in a few days, the photos yielded by a shoot will last forever.  
Smoke bombs are a popular Halloween accessory, especially if you're planning a photoshoot. Colored smoke will create a spooky atmosphere for your shoot and set the mood of your photos. Not to mention that they look really, really cool. The pumpkin head photoshoot trend has been getting more and more traction each year! 
We've put together ideas below to help you plan the perfect pumpkin smoke bomb photo shoot.
Tips for Taking Amazing Smoking Pumpkin Photos for Halloween
Before you pull the ring on your first smoke grenade, it's important to make sure everything else is ready to go. Most smoke bombs vent for 20-90 seconds, so you won't have a lot of time to spare once it's ignited. Additionally, make sure everyone present at the shoot understands how to safely use them.
One of the most important safety tips to remember is that you should only ignite smoke bombs outside, in well-ventilated areas. While the smoke is non-toxic, it's not healthy to inhale it. Similarly, you should stay away from dry areas to avoid accidentally starting a fire. Once you pull the ring, sparks and ash will shoot out of the vent, followed by smoke. The cartridge will also get quite hot. Once the smoke bomb has finished smoking, immediately place it in a metal bucket and pour water over the cartridge to fully extinguish it. 
If you're hiring a professional photographer, make sure you discuss with them in advance that you'd like to use smoke grenades. If you have specific ideas on what you're looking for, make sure you share them with the photographer so they can adequately prepare for the shoot and be familiar with how to use smoke grenades.
If you're planning to shoot the photos yourself, check out our guide to getting started with smoke bomb photography. Without further ado, let's take a look at some Halloween smoke grenades ideas.  
Halloween Pumpkin Smoke Bombs - 2022 Trend, What's the Big Deal?!
Pumpkin Smoke Bombs are becoming a trending technique used by amateur as well as professional photographers. Smoking pumpkin sticks have become a popular Halloween online tradition. These photographic techniques add charm and fun during wedding or gender reveal photoshoots. People get all prepared with creepy costumes hoping for the best photo of Halloween. You can raise the game up by using the pumpkin bomb instead of the bland lighting. Smoke art photography is a trend that has become popular in Social Media during this spooky season. Halloween pumpkin smoke bombs is a trend you won't want to miss this year.
How to Make Pumpkin Smoke Bombs
A smoking jack-o'-lantern is one of the most creative ways to use smoke bombs in your Halloween photoshoot. They're also pretty easy to make if you're already an experienced pumpkin carver. 
Here's everything you need to make a pumpkin smoke bomb:
1 x cool-burning ring-pull smoke grenade
1 x large, fresh Howden pumpkin
1 x serrated vegetable knife
1 x ice cream scoop
1 x pencil 
Several sheets of paper
The materials above will allow you to make a single pumpkin smoke bomb. Increase the number of smoke grenades and pumpkins if you'd like to make more.
First, decide what kind of jack-o'-lantern you would like to make. A smoke bomb will work with almost any style. If you're carving a face, use the pencil and paper to draft your design. Once you're happy, carefully mark the design on your pumpkin with the pencil. Using a serrated vegetable knife, carve a hole at the top or bottom of the pumpkin. Then use the ice cream scoop to remove the flesh.
If your smoke bomb pumpkin will be placed on a flat surface, carving from the bottom will allow you to easily place it over the smoke bomb, and helps the pumpkin retain its structure. However, you may also need to carve a small chimney on top for additional ventilation.  
Carving from the top will make the pumpkin smoke bomb easier to hold. You can also keep the carved top as a lid to prevent smoke from blowing directly into your face while you hold it. Pumpkin smoke bombs are great because you can photograph them alone, or with your subject either standing nearby or holding the pumpkin. 
Smoke bombs come in a variety of colors, and unsurprisingly, different colors will set different tones for your photos. Dark colors are ominous and spooky, while bright colors are more playful and lively. Orange smoke looks great with a bright orange pumpkin. 
Halloween Pumpkin Smoke Bombs Tip #2
What's a Halloween photoshoot without costumes? Like smoke bombs, costumes can be really fun and will help bring your photos to life. When you use both, the results can be extraordinary. 
If your costume is mostly black, use black smoke for grim, haunting, or sinister photographs. Alternatively, use white smoke to create a visually captivating contrast. Less natural colored smoke can be even more bewitching. Green smoke matches well with dark costumes and natural scenery, while purple smoke feels more enchanting and mystical.
Red smoke can help enrich the romance in a photo of a couple, but it can also be used effectively to add elements of chaos or turmoil to your imagery. Yellow smoke feels fun and festive.
Please note that the smoke from a bomb can potentially stain your clothes. If you're using a rental costume, or don't want to risk a stain, we recommend standing at least 3 feet away while it's smoking. 
Pumpkin Head Photoshoot Ideas
In addition to a costume, wearing a mask or makeup will further enhance your Halloween smoke bomb photos. Masks and makeup can contribute to the otherworldliness of your photos, ultimately making them more compelling. You can also follow the pumpkin smoke bombs trend, which is one of our favorites! 
Catrina or Sugar Skull makeup is a tradition associated with the celebration of the Mexican holiday, Día de Muertos (Día de los Muertos or  "Day of the Dead" outside of Mexico). Día de Muertos is about celebrating our loved ones who have passed away, and the Catrina makeup and costume embodies this theme. 
While Día de Muertos is sometimes erroneously called 'Mexican Halloween', the holiday is a separate tradition, more closely related to the Catholic holiday, All Souls Day. Even so, Catrina makeup and costumes are popular in the US during Halloween festivities. 
A Día de Muertos themed photoshoot can be healing, festive, and spiritual. Smoke bombs, when used appropriately and tastefully, can help create beautiful and ethereal imagery that keep with the spirit of the holiday. Non-Mexicans should research the customs and history of Día de Muertos before donning a Catrina costume or makeup to ensure they are respectful of the tradition. 
Pumpkins With Smoke - Where To Buy Smoke Bombs for Halloween Photoshoots
As pyrotechnic devices, smoke bombs are legally required to be shipped by a licensed hazmat courier within the US. As a result, shipping is more expensive, and may take longer than for a different item of the same size and weight.
For this reason, we recommend ordering early and in bulk. Shutter Bombs charges a flat fee for shipping, which decreases depending on the number of bombs you purchase. For example, if you purchase $100 or less worth of smoke bombs, the shipping fee is $40, while orders over $100 have a $30 shipping fee. Orders over $200 include free shipping. Once your order is processed, it typically takes 2-7 days to arrive, depending on where you live. Orders placed before 11am (Mountain Time) are usually processed the same day. We promise that we are the go to place to find your smoke bombs for halloween.
Best Smoke Grenades for Pumpkin Smoke
A standard SBFX smoke bomb will vent for approximately 90 seconds, so you'll be limited in the number of photos you can take per bomb, especially if you want to try shooting multiple people or in multiple locations. In addition to saving you on shipping fees, ordering bulk smoke bombs allows you to experiment with different colors and take your time with each bomb.
We recommend the original Shutter Bomb rainbow pack. The 7-pack includes a red, orange, yellow, green, blue, purple, and pink SBFX smoke bomb, and costs $70 before tax and shipping. You could supplement this with three black or white smoke bombs to qualify for a discounted shipping rate, or alternatively order the rainbow 14 ($135) or 21-pack ($199).  
Whichever smoke bomb or smoke bomb pack you choose, using them as part of your Halloween photoshoot is sure to be a memorable experience. We hope you have a happy, spooky, and smoky Halloween. 
Halloween Pumpkin Smoke Bombs - Pumpkin Head Photoshoot Trend
Smoke bombs are an excellent way to add a splash of color to your next photograph. Smoke bomb photography has recently gained popularity. Smoke photography has grown so popular that even photographers are incorporating smoke bombs into their wedding photographs.
Adding some colored fog to your photos may result in stunning portrait and landscape photography. The smoke may enhance the ambiance, create an intriguing backdrop, or produce stimulating effects. Here's a quick guide for knowing and selecting the proper smoke bomb, preparing the ideal frame, and capturing it safely and quickly.
Consider your color selections carefully throughout the planning process. A smoke bomb can provide a lot of fresh color to your scene, which you may utilize to your advantage. Usually, I look for color schemes that are similar to mine.
Make sure you prepare for adverse weather conditions. For instance, the wind will quickly disperse the smoke, and you will not regulate the effect.  Once you've begun, you'll consider making the most of your limited active smoking time. Keep your measurements and composition as far out of the way as possible before activating the effect.
Don't forget about the lighting, as it'll impact the outcome of the halloween pumpkin smoke bomb photos. Because your smoke will be mostly opaque, you can indeed make it glow with a speedlight or a pair of strobes. The fog that isn't wholly opaque may provide you with some intriguing light streaks to experiment with.
If you opt to carry your smoke bomb throughout the shot, move it about gently to create different trails instead of wiggling it in one place. To achieve more excellent coverage, have your model move over the area with the smoke bomb before actually settling into position. If you're shooting using a tripod, you may operate it yourself, or you can delegate the fan job to a buddy or helper.
The smoke provides a distinct mood to portrait, wedding, and street photos, not to mention a dash of color. Furthermore, the smoke bomb itself may serve as an attractive prop for your models.
A simple picture shoot may be transformed into a fantasy with the use of smoke bombs. Smoke photography has become so popular that it is now utilized for weddings, gender reveal pictures, engagement sessions, and even landscape photography.
The only challenge you may encounter during pumpkin smoke bomb photography is when and on what angle to pull off the smoke bomb during the shoot. Your photos may come out not as what you expected the first time, but do not worry because, after some practice, you will surely get better at it. Here are some tips to always remember:
Ensure safety first. Stay away from any flammable materials when diffusing a smoke bomb. Always follow the safety precautions indicated.
Plan your theme ahead of time. When you know your theme, you can better decide on the type and color of the smoke bomb to use to ensure its compatibility with your theme.
Prepare the set-up beforehand. The lighting, stage settings, and even the subject or model/s must be prepared ahead of time. Everything will be quick during the shoot once the smoke bomb is ignited.
Enjoy the shoot. Doing smoke bomb photography is a lot of fun. Be free and just enjoy the shoot even when things get messy. 
---