How to Use Smoke Bombs for Wedding Photography - Tips for Amazing Wedding Photos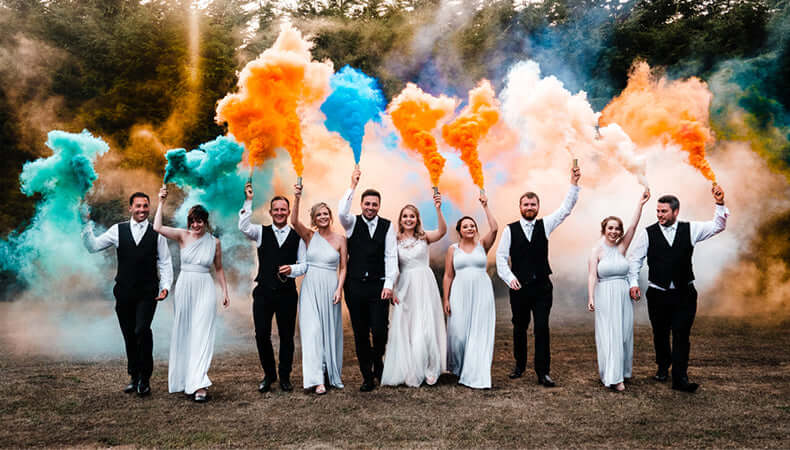 Smoke Bomb Wedding Photography Ideas & Tips 
For most people, the day of their wedding is one of the most important days of their life. Good wedding photos will help commemorate the day, but great wedding photos tell a story - the couple's story. They recognize, honor, and celebrate the union of two distinct yet connected lives. 
Adding colored smoke to your wedding photos is an effective technique for enhancing the mood and tone of the imagery. As a visual element, smoke can evoke intrigue, romance, drama, and passion, and ultimately help create more visually compelling photographs. We've put together some smoke bomb wedding photography ideas and tips on how you can incorporate smoke into your shoot. 
We also recommend hiring a photographer with smoke bomb photography experience, or at least discussing in advance with your photographer what you'd like, so they have time to prepare.
Red Smoke for Romance
Red and pink colors are commonly associated with love, romance, intimacy, and passion. Naturally, red and pink smoke bombs are a great choice for your wedding photos.
In many cultures, the bride also wears red during the wedding as a symbol of prosperity and good fortune. Matching the smoke to the couple's attire is one of many ways to use smoke bombs to create visually pleasing imagery.  
Purple Smoke Bombs
Purple smoke bombs are a popular choice when it comes to wedding photography. Purple smoke will add a magical and enchanting quality to your photos that is otherwise hard to produce in a traditional wedding photoshoot. 
Black Smoke Grenades
Black smoke is another popular choice, especially for couples that wear black on their wedding day. As we mentioned, matching the color of the smoke to your clothing produces captivating visuals, especially if you're wearing less traditional colors. 
Alternatively, pairing black smoke with white attire will add a strong contrast effect to your photos that can be equally mesmerizing. 
White Colored Smoke
Smoke bombs can make for vivid and colorful imagery, but they can also be utilized in more subtle ways to complement your photos. White smoke can give your photos an ethereal or dreamy mood. It's perfect for couples that are looking to add some flair to an otherwise decorous or traditional photoshoot. 
Rainbow Smoke
Rainbow colors have a long association with the LGBTQ+ community. Activists campaigning for LGBTQ+ rights first started using a rainbow flag as a symbol of gay pride in San Francisco in the late 1970s, and it quickly became a globally recognized symbol. 
Rainbow smoke bomb packs are a popular choice for marrying LGBTQ+ couples. Adding plumes of pink, red, green, blue, and purple smoke to your photos conjures the same feelings of pride, celebration, and acceptance that the first rainbow flags evoked in the early Pride parades through San Francisco in the 1970s. 
Red, White & Blue Smoke
Shutter Bombs offers multiple red, white and blue smoke bomb packs that are great for the 4th of July, or other classic American events.  For couples with a strong sense of national pride, they also make for striking wedding photos. 
Wedding Party Smoke
Weddings are all about celebrating with your closest friends and family. Incorporating smoke bombs into a shoot with your wedding party is a great way to make your photos look as festive as you feel. It will be the coolest group photo your squad will ever have. 
Smoky Overlay - Wedding Photo Tip
Many couples like to hold the smoke bomb in frame to ensure the thick billows of smoke are captured in their photos. However, you can also ignite the grenade off to the side and out of frame to produce a more subtle overlay effect. Depending on the color, the hazy overlay will add a slight visual effect to the photos that doesn't distract from the lucky couple. 
Important Tips to Remember for Smoke Bomb Photography for Weddings
Enola Gaye - the smoke bomb brand sold by Shutter Bombs - is the world's leading manufacturer of cool-burning, wire-pull colored smoke grenades. They have been rigorously tested for safety, and are approved for use in Europe and the US (although some cities and counties have restrictions on their use). However, there are some important safety tips to keep in mind. 
Do Smoke Bombs Get Hot?
First and foremost, a smoke bomb is a pyrotechnic device, and needs to be handled with care. While Enola Gaye smoke bombs have a cool-burning design, meaning no external flame is produced, the cartridge still gets quite hot while smoking. The smoke bomb will also emit some sparks and ash once ignited, along with the colored smoke. 
For this reason, you should avoid igniting a smoke bomb in a dry area. Smoke bombs are highly flammable, and in the right conditions, can easily start a fire. Once the bomb has stopped smoking, place it in a metal bucket and pour water over the cartridge to ensure it's completely extinguished.
Can I use Smoke Bombs Indoors?
No, you cannot use a smoke bomb indoors.
You should only ever ignite a smoke bomb outside, in a well-ventilated area. While the colored smoke is non-toxic, you should still try to avoid inhaling it. That will be very difficult if the bomb goes off inside. 
Do Smoke Bombs leave Residue?
Another reason not to use smoke bombs indoors is that the smoke could stain the walls and ceiling, and leave behind a lingering smell. Additionally, colored smoke is also capable of staining your clothes if you're standing too close. Considering how expensive wedding attire can be, you probably want to avoid this.  We recommend standing at least 3 feet away from a smoking bomb to prevent staining. 
Order in Bulk
Smoke bombs are legally required to be shipped by a special hazmat courier. As a result, shipping costs may be higher than expected. Shutter Bombs offers flat rate shipping fees depending on the number of bombs you purchase. 
We recommend ordering in bulk in order to save on shipping costs. Not only will this give you more opportunity to experiment with different styles and techniques during your photoshoot, but smoke bombs also have a great shelf life; up to 4 years when stored in a cool, dry place.
Smoke bombs add beautiful clouds of color, creating a romantic and dramatic backdrop that is unique in wedding photography. It's a fun way to add a nontraditional and epic touch to your wedding photos. With all the different colors available, couples can take amazing wedding shots tailored to them. There are many possibilities for enhancing and bringing your wedding photos to life when using colorful smoke bombs.
Smoke Grenades and Wedding Photography - What You Need to Know 
Of course, there are several things to consider when you want to add smoke bombs into your wedding ceremony, reception, or photoshoot:
It is your responsibility to make sure all proper safety measures are taken before using smoke bombs. Most importantly, make sure you get permission from the wedding venue to use smoke bombs beforehand.

You want to make sure you use them in an open area outside, at a safe distance away from the public and the dry regions susceptible to fires.

Consider the environment.
Take note of the temperature, wind, and lighting that day. All three can drastically affect how well the smoke bombs perform for your photoshoot.
Be sure to discuss the use of smoke bombs with your photographer. The photographer should be informed beforehand that you are planning on using smoke bombs so they can be prepared. If your photographer has never used smoke bombs before, that is fine! If you give them a heads up, there are many helpful youtube videos and tips and tricks online. It is recommended to do some practice shots before igniting the smoke bombs to get a good idea of how you want to take the pictures. It's also a good idea to pull a couple of smoke bombs before the actual shoot, so you get a feel for how the smoke bombs work. 
If you have never used smoke bombs before, having some extra ones to play around with (without wearing wedding attire) will allow you the opportunity to know how they work and what you can uniquely create with the vibrant smoke plumes. 
Test them in an open space and not in public, so you know what to expect. There are also many YouTube videos that you can find that show you how to effectively use smoke grenades so you can get an idea of what to expect on your big day. 
Keep in mind that even though smoke bombs are "cool burning" grenades, they still do get hot on the inside and are burning even after the smoke is finished. 
Since they are cool burning grenades, you can hold them instead of just setting them down on the ground. But make sure to keep them from the base, like you would a candlestick, and not too close to your clothing. The color from the smoke bombs can stain your clothing, and this is not something you want for your wedding attire. Even though these don't get scorching hot. 
The smoke bombs may be pretty, but the last thing you want is to have colored stains on your wedding clothing. To avoid any chance of staining, you can always use smoke bombs as a backdrop and place them several meters away from you and not have to hold them.
Inhalation of the smoke is not suitable for you either. The smoke can irritate your eyes, nose, and throat and affect you worse if you have allergies or asthma. If you can hold your breath while using the smoke bombs, this can decrease your chance of smoke inhalation. 
Different Types of Smoke Grenades and Smoke Bombs for Wedding Photography
Depending on which smoke bomb you get, they have different burn times - keep this in mind for planning for the shoots!
Dual Vent Shutter Bomb: A unique smoke bomb that releases smoke from both ends that lasts for ~30 seconds.that 
Original Shutter Bomb: Our flagship smoke bomb product and a perfect option for wedding photography! These last from 40-60 seconds. You can get the most shots when using these smoke bombs because they last so long. The WP40 smoke bombs are one of the most popular ones to use for wedding shoots.
Professional Shutter Bomb: Our longest-lasting smoke bomb that emits smoke for 60-90 seconds.
The Big Daddy Smoke Bomb: Our most giant smoke bomb, although not the longest. These last for ~40-60 seconds.
The units measure about the same size as a soda can. If you want a more minor effect than the previous two, using an EG25 will still give you a decent-sized smoke cloud but only last for 30 seconds. The EG25 is a small type of smoke bomb measuring about the same size as lipstick. The biggest of all smoke grenades are the EG18X bombs. These smoke bombs can fill up a small space of smoke very quickly and last about 50-60 seconds. The smoke cloud density from an EG18X is the largest of all smoke bombs available. 
Wedding Photography Smoke Bomb Ideas
The type and color of smoke bombs that you plan to use depending on where you are doing the photoshoot, the clothes you are wearing, and the kind of effect you are wanting to get from using them. There are so many ways that you can use smoke bombs to enhance your wedding photos. For example, you can use smoke bombs to add more color, highlight existing colors in the shot, or give a mysterious or romantic feel to your photos. 
If you are having a wedding in the fall, taking photos in front of trees with fallen colored leaves behind you goes excellent in combination with orange, peach, or red smoke bombs. Those colors will go together great, along with the colors in the fall leaves and trees. 
In a desert or beach environment, a neon-colored smoke bomb will bring a vibrancy to the shot. Setting the smoke bomb in the background to use as a punch of color as the backdrop will create a fantastic effect. Using a color that will highlight the florals in the bride's bouquet or coordinating the smoke bomb color to the colors of the wedding attire will create a cohesive and steamy photo session.
Most wedding photos have a few of the newlywed couple kissing. To make a photo of the couple kissing even more romantic, adding a red smoke bomb is something to think about! After all, red if the color of romance, isn't it? Red smoke can capture the magic and romance within true love, creating a powerful, intimate shot.
Shooting portraits during the middle of the day when the direct, overly bright sunlight is shining down powerfully can be a challenge at the time. Using an orange-colored smoke bomb can decrease the sun's harshness and turn it into a warm haze, making a beautiful picture for the bride and groom to gaze into each other's eyes.
Mixing two or more different colors of smoke bombs also can make a powerful wedding shot. Using contrasting colors such as deep dark color and a bright neon color will bring the photo to life while adding some depth. Even going colorless can have a dramatic effect. You don't always have to used colored smoke bombs to give your wedding photos a boost. Choosing a gray or white smoke bomb can add a natural-looking element to your portraits. The colorless haze gives a mysterious and romantic feel which looks perfect in outdoor wedding shots. 
The possibilities of what you can do with smoke bombs are endless! Getting a good idea of how you want to use the smoke bombs beforehand is vital. Practice your poses without the smoke bombs and decide which colors to use to unify everything together that is being photographed. Decide whether you or your wedding party will be holding the smoke bombs or setting them down to create smoke in the background. Figure out if you want the colored smoke to complement or contrast with the attire, bouquet, surroundings, and props. Discuss your vision with your photographer. After all, they will be the ones taking the portraits and can guide you in the right direction to make your dream come to life. 
Enjoy Your Smoky, Special Day
We hope these smoke bomb wedding photography ideas provided some inspiration for how you can produce memorable photos that will last a lifetime. However, these are just some of the ways you can use smoke bombs at your wedding - don't be hesitant to get creative.  Shutter Bombs offers multiple smoke bomb colors and variety packs that can help tell you and your partner's story.
---