White Smoke Bombs and Smoke Grenades - Colorful Smoke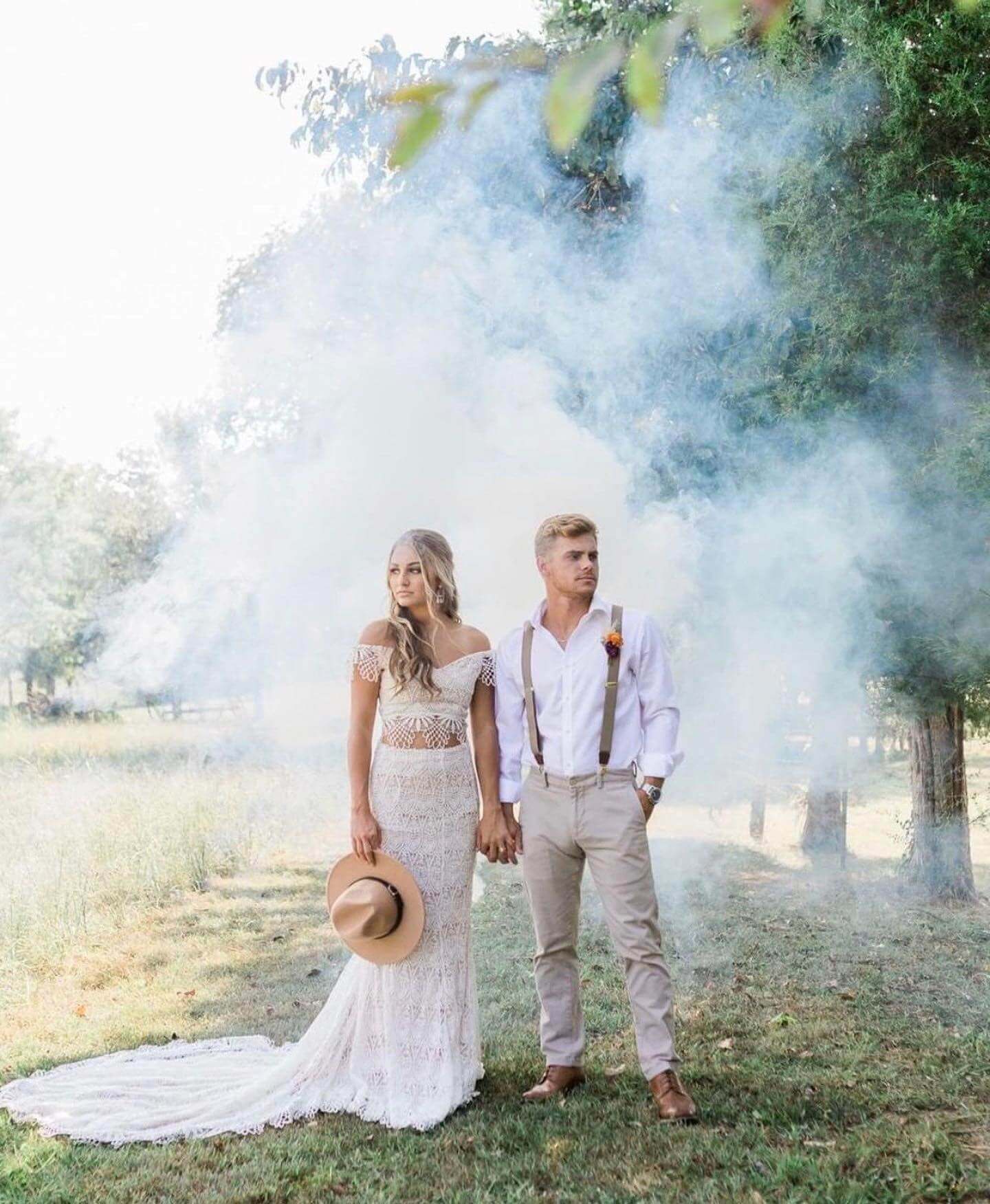 Smoke bomb photography
Smoke bomb photography is a popular way to get dramatic images in photo shoots. The smoke will provide some nice drama that can definitely help you get the perfect shot. If you're using a light source for your shoot, you'll want to use white smoke bombs because they will reflect the light and make it visible. That's what makes them perfect for fashion photography!
Using white smoke bombs in any sort of wet environment will create even more drama. You can also use them in foggy environments, adding more drama to those shots as well.
White Smoke bomb use at weddings
Smoke bombs are a great way to add some flair to wedding photos. Whether it's the bridal photos or engagement photos, white smoke bombs add a formal touch to your wedding day photos. White smoke bombs go with any color wedding environment. No matter what your grooms and bridesmaids colors are, white smoke bombs add the allure and impressive addition to all of your wedding day photos. Have a the white smoke effect in the background to draw attention to your subjects. White smoke bombs are also a great way to start the outdoor wedding reception. Do you want photos to remember and that stand out from the typical wedding photos? If so, using smoke bombs will do that. It will take your wedding photos to another level. Be sure to plan ahead and make sure the smoke bombs are not pointed at the wedding party's clothing. 
White smoke bomb uses
You can use smoke bombs for many purposes! They are great for photography, weddings, parties, concerts, stage performances and more. White smoke bombs  create a spectacular effect in photographs and videos that is hard to replicate with other forms of photography equipment. Smoke bombs last about  anywhere from 75-90 seconds, which gives you plenty of time to take some amazing snaps. You can also use smoke bombs at parties or events to add some flare (no pun intended) or excitement. Have you ever attended an outdoor event where the performer or DJ used colored smoke? The effect is absolutely amazing and the crowd loves it! You can also use them at concerts to get that cool aesthetic look while listening to your favorite artist perform live. Smoke bombs are such a fun way to enhance any experience -- try using them at your next party or event! White smoke bombs are great to use for football entrances, soccer entrances or any other outdoor team use. How about igniting a smoke bomb after a touchdown, field goal or home run is an excellent way to add excitement at your sporting event.
Halloween and White Smoke Bombs
White smoke bombs are a perfect way to create the spooky feeling you are looking for at Halloween. Foggy white smoke in your background photo for Halloween is spooktacular! It creates a sense of mystery.Using the white smoke bomb, you can create a foggy, mysterious background for your photoshoot. You can also add a white smoke bomb to your carved pumpkin. White smoke emitting from your carved pumpkin is an easy  way to create that spooky Halloween photo. Put on your witches costume and put a white smoke bomb in a witches cauldron to capure that perfect Halloween photo.
White smoke bombs are a great way to make your photography and other activities more impressive.
A white smoke bomb is one of the easiest ways to add an impressive, magical quality to any activity. From weddings and photography to parties and art projects—white smoke bombs are an incredibly versatile product. Here are some practical and fun uses for white smoke bombs:
Photoshoots. Whether professional or just for fun, pictures taken with a white smoke bomb in the background have a unique and beautiful quality.

Art projects. A white smoke bomb adds incredible depth to any art project because of its instantly striking appearance!

Use white Smoke bombs for photography with cars, motorcycles, bikes, and skateboard

Team Entrances for football entrances, soccer and soccer goals, baseball home run celebrations

White smoke bombs are wonderful ways to add grandeur  and interest to Senior pictures and graduation photos. 

White smoke bombs can be used for training purposes for fire and police training and also instances in canine training.
---