11 Awesome Pumpkins with Smoke Bomb Pictures - Halloween Inspiration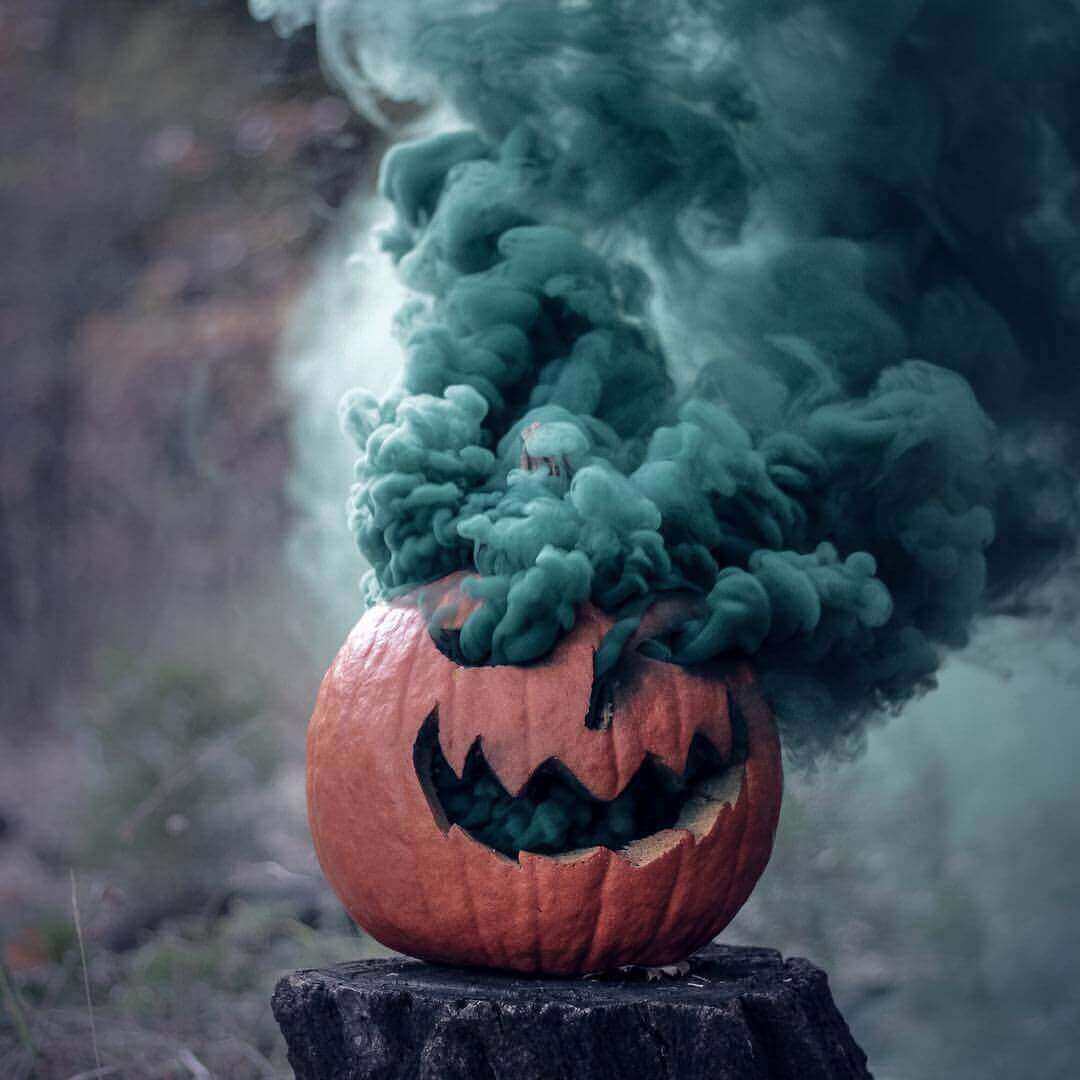 Pumpkin Head Photoshoot
Grab a white
smoke bomb
, and instead of holding it in your hand - put it on the ground. You'll have to pay attention to the wind to make sure the smoke is blowing in the frame. Use props like pumpkins and carve them out to your favorite movie (star wars). Grab hubby and create an epic photo like this! If you're looking for other
pumpkin head photoshoot ideas
, review our other blog posts! 
Smoking Pumpkin Picture
If you're anything like me and don't like having your picture taken - this is the PERFECT photo to take this halloween! Grab a pumpkin, carve out some big openings, and pop the smoke bomb in there. Just make sure the smoke isn't blowing directly back in your face! You'll have the
best smoking pumpkin
anyone has ever seen. 
Pumpkin Photshoot
Don't want to hold the pumpkin or have your body outline in the photo? This is the PERFECT photo to showcase your pumpkin carving skills while also making it look super cool. Check out our other guides on
halloween smoke bombs
to get more inspiration! 
Smoking Pumpkin Photography
Black smoke coming out of your carved pumpkin! How cool is this photo? Put on some black lipstick and you are all set for a perfect smokey carved pumpkin photo. Carve your pumpkin and place the smoke bomb in the middle of your pumkin. Plan ahead and be sure it is not too windy outside. Be sure to be quick with your picture taking skills before the smoke takes over. We recommend the original spooky pack for the best pumpkin smoke bomb photos
Pumpkin Smoke Bombs
Orange, green and yellow smoke coming out of these pumpkins creates that epic photo with little effort.  Grab your favorite colored smoke bombs, and get creative with your Halloween decorations. Make it scary or make it fun. You decide.
Pumpkin Head Photoshoot
Carve a pumpkin and add some smoke! Place the carved pumpkin in front of your head  to make it look like a smokey pumpkin head. This is an easy cool photo effect. You can also zip your jacket over your head! Either way this is an easy way to capture a smoking carved pumpkin for Halloween!  Be sure to pay attention to the wind direction and plan ahead. The less wind the better to capture the best smoke effect. For the most smoke, our professional smoke bombs are our recommendation! 
Pumpkin Photoshoot - Smoking Pumpkin
 No need for a costume here. To create this simple Halloween carved pumpkin photo, all you need is a carved pumpkin, and  add a smoke bomb of your choice.  There you have it, a perfect, simple Halloween photo with a carved pumpkin and a smoke bomb. Plan ahead to determine the wind direction so you can get the best photo that will not block the subject. A good idea is to purchase a few extra so you can capture that perfect pose.
Smoking Pumpkin Carving
 This is a great idea for a Halloween couple photoshoot. Just use a carved pumpkin for your prop and whatever color smoke bomb you desire. We have red, white, black, blue, green, orange and pink. This couple chose a green smoke bomb. Be sure to check where the wind is coming from. Frightening and fun for an amazing Halloween couple photoshoot to post or keep for yourself.
Pumpkin Smoking Carving 
 Carve your pumpkin and order smoke smoke for that cool Halloween photoshoot. Put the pumpkin in front of your face for that cool effect. Smoke on the bottom creates that scary, spooky, smokey look which is easy to achieve with smoke bombs. A black is always perfect in these photos. You can't go wrong creating this Halloween photo using the smoke in the background which is easier to control.
Smoking Pumpkin Head Photoshoot
A little make-up, a carved pumpkin and orange smoke emitting from the pumpkin is all you need to achieve this look. Make sure it is not too windy as you don't want the smoke to cover your face and cool make-up.You have to plan ahead and work within the 90 second range for this to work. We recommend you keep taking multiple pictures once you light the smoke bomb. This way you will be sure to capture the look that you want. Make this your fun Halloween project with a stunning effect and a perfect pic to post.
Where to Buy Smoke Bombs Near Me?
Unfortunately, at the start of COVID, we had to shut down all of our retail stores. The only place you can buy Shutter Bombs are online. 
---