7 Amazing Ideas for your Gender Reveal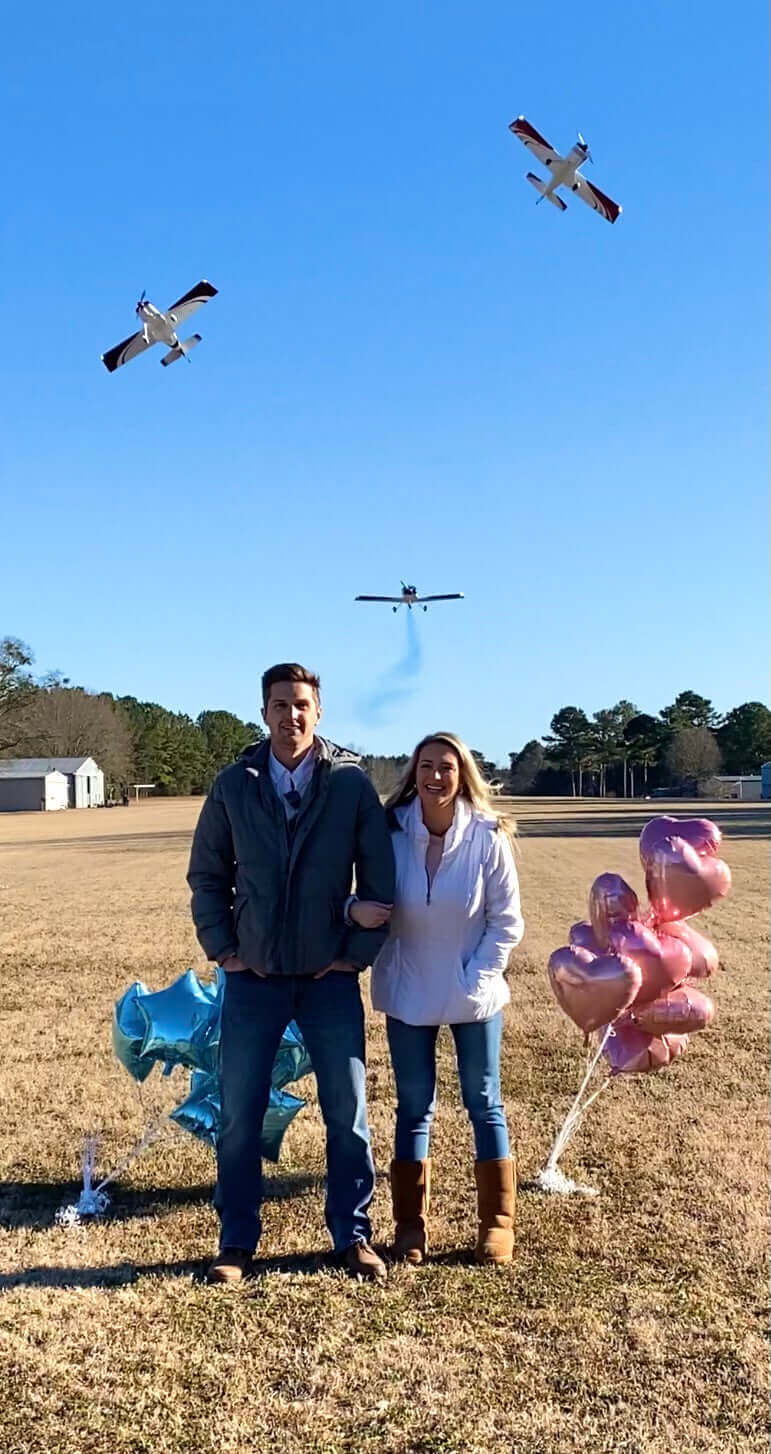 Are you looking for the perfect way to share your baby's gender with your family and friends? A gender reveal party brings the people you love together for this memorable occasion.
Knowing whether you're having a boy or a girl will change your life forever. It's only natural that you want to share such an important moment in your pregnancy journey.
From simple balloons to dramatic gender reveal smoke bombs, there are many options to consider. If you're struggling with gender reveal ideas, we can help! 
Here are 7 exciting ideas for your gender reveal party.
Gender Reveal Idea #1 - Light It Up
If you're planning a gender reveal at night, using lights is a beautiful way to showcase the exciting news. You can place pink or blue spotlights outdoors or  string some colored or twinkling lights in your yard or around a tree. 
When it's time to announce your baby's gender, do a countdown and flip on the lights to illuminate the news! Colored lights have a romantic feel and are beautiful for an evening party. The more lights, the better.
Enjoy an outdoor gathering with your family and friends and celebrate your little one. This idea can work indoors too, but the effect is greater outdoors.
Gender Reveal Idea #2 - Let Them Eat Cake
A cake reveal is a sweet and popular idea for a reason. Everyone loves cake! 
Contact your local bakery or pastry shop for options for a cake reveal. They can help you design the perfect cake for the occasion. If you want to be surprised too, be sure to remind them to keep the sex of your baby a secret. 
Gender reveal cakes often have a blue or pink center that's only visible once you cut the cake. As soon as you cut the first piece, everyone will cheer when they learn whether you're having a baby boy or girl.
Beyond the cake reveal, it's nice to have other gender-themed treats at the party, such as pink or blue lollipops or other candies. 
Gender Reveal Idea #3 - Surprise With Gender Reveal Smoke Bombs
If you want to give your guests an experience they won't forget, consider using gender reveal smoke bombs! You pull the pin and a huge cloud of beautiful, colored smoke billows out to reveal the news.
Smoke bombs are vibrant and look amazing in photos and on social media. The smoke allows you to reveal your news in a dramatic yet whimsical way.
Smoke lasts longer than confetti and is non-toxic and safe for your guests. You don't have to worry about waste since the canister is biodegradable as well.
Go all out for the big reveal and wow your guests with a smoke bomb gender reveal. 
Gender Reveal Idea #4 - Pop the News
Balloons are a fun way to share your baby's gender with family and friends. Inflate a large balloon filled with pink or blue confetti and glitter.
When you're ready for the big moment, you or your partner can pop the balloon with a pin and watch the confetti fly! This is a fun and simple way to make the gender reveal festive.
If you need to share the news with loved ones who can't attend, a balloon pop looks great on video too.
Another idea is to fill a large box with a bunch of pink or blue helium balloons. Open up the box and let them float away while your guests cheer with delight. 
Gender Reveal Idea #5 - Surprise With Silly String
Get your friends and family involved in the big moment with silly string. Cover the cans with dark paper before handing them out.
On cue, let everyone spray their silly string revealing the sex of your baby. This is a simple and affordable way to make your reveal party fun for everyone.
If you plan to be surprised, get a friend or neighbor to purchase and cover the silly string containers.
Silly string is messy, so be sure to use it for an outdoor party only. It's not biodegradable, so you'll want to clean it up after the big reveal.
Gender Reveal Idea #6 - What's In the Box
A reveal box makes a fun centerpiece for a gender reveal party. It's basically a big box filled with clues that announce your baby's gender.
It may include items such as words, toys, balloons, booties, clothing, or other clues. Anything that suggests the baby's sex can be included.
You can make it easy for your guests to guess, or you can make the clues a bit of a mystery to figure out. Once the secret is out, your guests will cheer to hear the wonderful news.
Gender Reveal Idea #7 - Hit the Piñata
If you're exploring gender reveal ideas, consider using a piñata for the party. You can fill a pinata with pink or blue candies or other items. If the news is a secret, have a trusted friend or relative do it for you.
The piñata can be as simple or elaborate as you want it to be. Adults and kids will love a chance to try to break it and spill the secret.
Piñata's are always a crowd pleaser and an exciting way to involve your family and friends on the big day. Most party supply stores carry piñata's and gender-themed candies and chocolates.
Gender Reveal Party Etiquette
There's no perfect way to reveal your baby's gender. You can choose one of these options or come up with your own unique idea.
Whatever idea you choose, your family and friends will be thrilled to know whether you're having a little girl or boy. The party is simply a fun way to share your joy with those you love.
Plan for a gender reveal party around 20 weeks after you've had a mid-pregnancy ultrasound to detect your baby's gender. Have your doctor put the news in a sealed envelope if you don't want to know the sex of your baby right away.
Plan Your Perfect Gender Reveal Party
A gender reveal party is a wonderful way to celebrate your baby girl or boy with the ones you love most. There are so many fun gender reveal ideas you can choose from.
From a simple cake reveal to a stunning smoke bomb show, you can plan for the perfect gender reveal party.
EG is the world's number one provider of smoke effects across a variety of industries. Our gender reveal smoke bombs are cool-burning, vibrant in color, and non-toxic.
They're a crowd pleaser and can help make your gender reveal party a forever memory for you and your guests. Contact us today to learn more. 
---