Spooky Inspiration for Halloween Photoshoots for Kids with Colored Smoke Bombs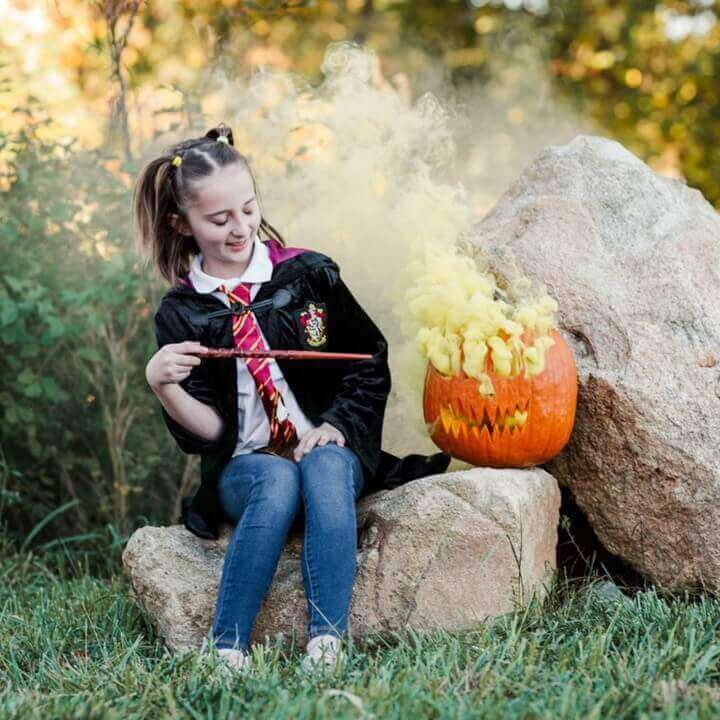 Halloween Smoke Bomb Ideas
Create the perfect family Halloween smoke bomb photo with of course your little ones. It is much easier to use the smoke as a background so you don't have to worry about smoke direction quite as much. Put on your costumes, pose and create the mood you desire with your favorite colored smoke bomb. This family used a purple smoke bomb for a colorful, fun look. Perfect for pumpkin head photoshoot for the entire family! 
Green Colored Smoke Bombs for Photography
Do you want to create that scary, eerie, frightening photo? Use a green smoke bomb and of course your Halloween costume. The green smoke bomb makes this photo stand out in a wickedly scary way. All you need is to add the smoke to any costume and mask and it is a game changer! Is this a real person or a mannequin…you decide. Either works! You decide how you'd like to take advantage of the halloween smoke bomb trend
Orange Colored Smoke Bomb for Halloween
How to create the perfect kid's Halloween Photoshoot: Cute kid, cute costume and smoke bombs in the background.
This is the perfect formula when capturing a Halloween smoke bomb photoshoot with a child. Background smoke is the easiest way to not have to worry about the smoke taking over the photo. Be sure to go far enough away with the smoke to give you time to compose your photo. How cute is this and your child will love this!
Spooky Halloween Smoke Bomb Picture
Does your child want to create that scary Halloween photo? Smoke bombs are perfect for this, especially used in the background. Smoke bombs used this iway is much easier as you don't have to worry about wind direction quite as much. Just be quick with your camera and prepare your shot. Think about this photo without the smoke…definitely does not have the same effect. The smoke makes it! Holding a fake weapon and a scary mask helps too!
Halloween Smoke Bomb Group Inspiration
Have your kids and their friends create the coolest ever photo with a smoke bomb. Black costumes, or just black clothes, the pose, the look and of course the orange smoke bomb finishes this photo off with the coolest effect ever. Your kids and their friends will love this! Simple to add a smoke bomb in the background.
Halloween Photoshoot with Kids
The smokey background is what makes this photo perfect. Have your child hold the smoke bomb low and in front. Be sure to pay attention to the wind and work fast to capture the smoke before it hides the smiling face of your child. He is the most important part of this photo and of course second, is the cool orange smoke effect with an orange smoke bomb. A fake knife and smile doesn't hurt.
Moody Halloween Photoshoot Idea
This is the perfect kid Halloween photo. Have your child put on dress, pose, add a bit of make-up blood to create the scary effect, and of course a color smoke bomb of your choice. In this case the green smoke bomb is a perfect choice with the trees in the background. You can make this cute or scary depending on your child's preference. Using the smoke bomb as a background makes this a no fail photoshoot and adds that spooky essence. Pumpkin smoke bombs are in full force! 
Smoke Bomb Pumpkin for Halloween
This is an easy, cute Halloween photo with kids. Use your carved pumpkin as your prop/head and add an orange smoke bomb in the background as your back drop and voila…perfect Halloween photo. You don't have to worry about the smoke taking over your photo if you place your smoke bomb in the background of your subjects. Work fast and try to figure out the wind direction, as to not block the most important element of this photo…the cute kids. This is so easy, and no costumes are needed. Get started with your smoke bomb pumpkin sooner than later! 
Smoke Bomb Background Photoshoot
Create your fall photo with your toddler. Place the smoke bomb a few yards back to create a perfect fall background for an autumn, Halloween photo. How simple is this? Just a cute toddler needed and of course a smoke bomb in the background.
Scary Halloween Smoke Bomb Inspiration
Grab some sports gear, a couple masks, a smoke bomb and you have the perfect childor adult photo shoot. Everything looks spooky with a smoke bomb. Just use it in the background and get creative with any sports gear you have around the house.
Dual Vent Smoke Bomb Idea
Using a duel vent smoke bomb, this photo captures that smokey, spooky, cool effect. A hood and make-up, fake teeth and cute kid creates this one of a kind photo for Halloween. Duel vent smoke bombs create lots of smoke so work fast to capture this effect. Have your child hold the dual vent smoke bomb in front and let the smoke bomb do the work to create a photo you all will love, especially your child!
Witchy Halloween Smoke Bomb Idea
This little girl is creating some purple smoke in her cauldron. What little girl or big girl wouldn't love this photo? A witches hat, a child or adult, a cauldron and a purple smoke bomb put in the cauldron. Any color would work, but this was a perfect choice. This could not be easier. In this case a purple smoke bomb was used and of course a stick for stirring. A perfect choice for this little Halloween witch.  
---